Mold Manufacturing
Need mold making supplies for large quantities of production parts? Looking for a more cost effective and time efficient way of manufacturing parts? Don't miss our die casting and mold manufacturing services! At Minghe, we provide high quality and affordable die cast for prototypes and production parts with quick turnaround times.
What Is Die Casting Mold Manufacturing?
Die-casting materials, die-casting machines, and molds are the three major elements of die-casting production, and none of them are indispensable. The so-called die-casting process is the organic and comprehensive use of these three elements, so that it can stably, rhythmically and efficiently produce qualified castings with good appearance, internal quality, and dimensions that meet the requirements of the drawing or agreement, or even high-quality castings. ;
Die-casting mold is a tool for casting metal parts, a tool for completing the die-casting process on a dedicated die-casting die forging machine. The basic process of die-casting is: first low-speed or high-speed casting of molten metal into the cavity of the mold, the mold has a movable cavity surface, it is pressurized forging with the cooling process of the molten metal, which eliminates the shrinkage of the blank. Loose defects also make the internal structure of the blank reach broken grains in the forged state. The comprehensive mechanical properties of the blank have been significantly improved.
The Composition Of Die Casting Mold
Molding part (moving and fixed mold core, molding insert, core pulling core, etc.)
Mould base part (moving and fixed mould splint, AB board, pallet, mould foot)
Bypass system (sprue sleeve, shunt cone, cross runner, inlet and outlet)
Overflow system (overflow tank, exhaust tank)
Ejection mechanism (thimble, thimble fixing plate, ejection plate, reset lever)
Guide parts (guide post, guide sleeve, middle guide post, middle guide sleeve)
Core-pulling mechanism (core-pulling slider, oblique guide post, clamping block, spring, etc.)
Others (cooling system, heating system, strengthening column, etc.)
Common die casting mold manufacturing materials
H13 (heat-resistant steel) for front and rear mold cores, core pulling cores, sprue sleeves, shunt cones, etc.); 45# steel (for A, B plates, sliders, inclined guide pillars, etc.); T8, T10 (guide pillars) , Guide sleeve, thimble, reset rod, etc.); A3 steel (front and rear mold splints, pallets, thimble plates, mold feet, etc.)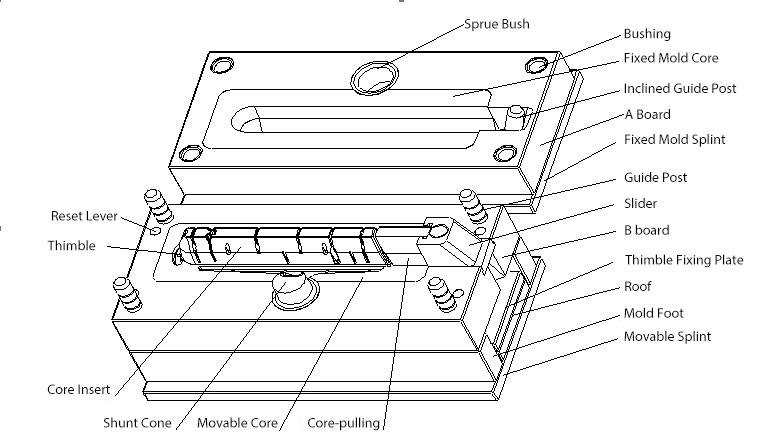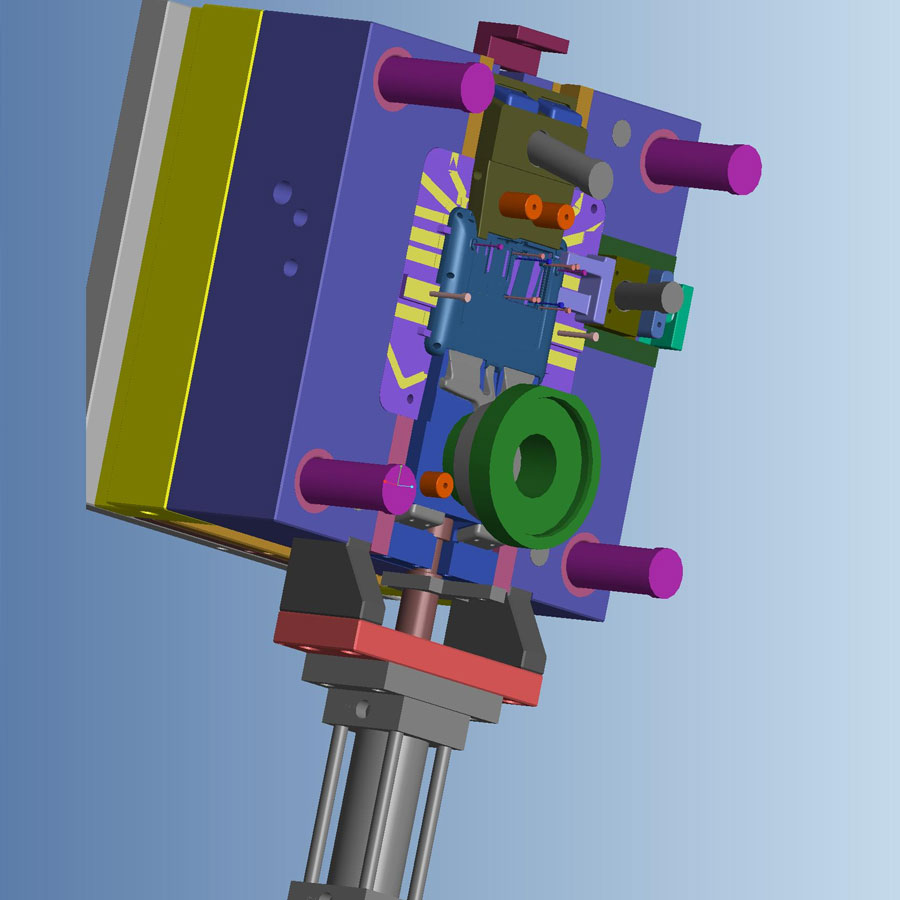 The Design Process Of Die Casting Mold
According to the materials used in the product, the shape and accuracy of the product and other indicators, the process is analyzed and the process is determined.
Determine the position of the product in the mold cavity, analyze and design the parting surface, the overflow system and the pouring system.
Design the core assembly and fixing methods of each activity.
Design of core pulling distance and force.
Design of ejector mechanism.
Determine the die-casting machine, design the mold base and cooling system.
Check the relative dimensions of the mold and die-casting machine, and draw the process drawing of the mold and each part.
Design completed
Advantages of die casting mold manufacturing and molding services
Good dimensional accuracy.
High productivity, easy to realize automatic operation.
Excellent surface finish.
Large volume production available.
little need to finish parts after molding.
Automation to save manufacturing costs.
Excellent repeatability and flexibility.
Die Casting produces low scrap rates relative to traditional manufacturing processes like CNC machining.
Minimize the material waste.
The parts manufactured by mold making service are used for building and construction, food and beverage, windows and doors, automotive, household appliance, electronics, communications and more industries, car molding, cooker parts, and led lighting parts would be a key part.
Tooling & Mold Making Service Online – Best Die Casting Mold Manufacturer Company In China
Minghe Casting is one of the best mold makers in China, offering mold manufacturing solutions for every industry, including led lighting, cooker, automotive die casting and more. Our main services offering include thin wall or more die casting mold manufacturing, die casting & investment casting,sand casting, as well as with CNC machining. With more than 35 years of experience, we are able to produce custom affordable aluminum die casting parts,zinc die casting parts and magnesium parts according to customers' specifications, drawings or samples. We own advanced techniques, highly skilled staff that employ superior tooling and high pressure die cast processes to ensure that the mold parts are of the cheapest price and highest quality. Whether you need rapid tooling, mass production mold making with tight tolerances, our team of experienced specialists can offer a cost-effective solution at each stage. Contact our expert team and get a price for your tooling/mold making service, we will quote you a die casting and mold manufacturing price in 24 hours!
Why Choose Our Die Cast Mold Manufacturing Services?
There are huge numbers of mold making companies. Why should you choose us as your tooling & die casting supplier? Here are the reasons:
High production capability and competitive prices for die casting service are offered.
We have rich die cast mold manufacturing experiences for over 35 years and earned a good reputation.
Exceptional customer service and communication.
Multiple of die casting mold designs & types – thin wall, Gravity Casting,Investment casting& sand casting are available to meet custom needs.
Do precision die casting parts manufacturing according to your drawings or samples.
Finish the parts with service of mold making in time to provide the strongest support for your R&D projects.
Our automated quoting, design analysis, and manufacturing process allows us to ship injection molding orders in as fast as 1 day.
We have advanced production equipment and facility, technology and materials to make the most precise die casting mold as well as great aspect .
We have the most experienced engineers and tooling partners that will really make a difference in your lead times, costs and final quality.
Die Casting Mold Designing & Making – How To Make Die Casting Mold
There are many factors to consider for Die Casting, but part design for the Die Casting Mold is critical. Getting it right could mean lower entry cost, high production quality, shorter cycle time, and quick assembly. As a source of experienced engineers and product designers, we have an individual or a team of professionals who can help you develop die casting molded parts from scratch. Our team of die casting mold design engineers specialize in drawing with CAD, CAE, CAM, commonly using SOLIDWORKS, PRO ENGINEER, UNIGRAPHICS, and MOLD FLOW analysis software.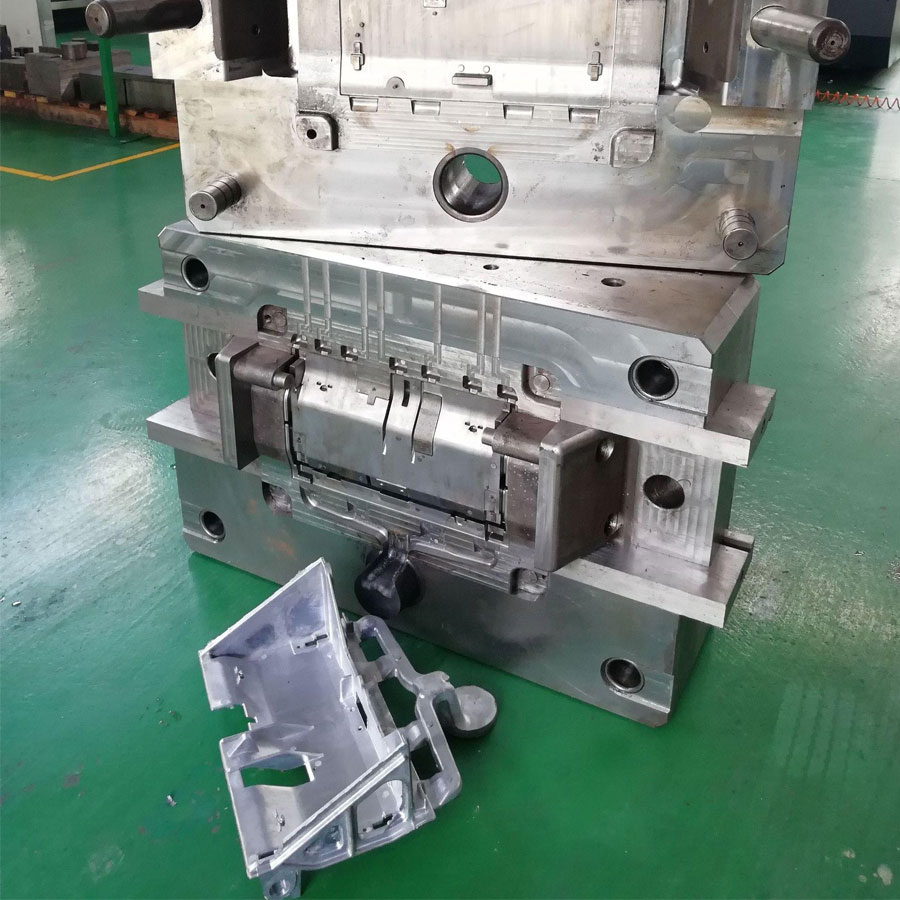 Global Die Casting Mold Manufacturing Services
Minghe Casting is a global manufacturer of both conventional and multi-slide die cast precision components. Our engineers offer design solutions for a variety of industries including consumer electronics, automotive, healthcare, and more. When our engineers are involved early in the project, they can help design a tool and part specifically for mass production. All of our customers receive insight and expertise throughout all stages of the project. Contact our engineering team to request a quote today.
Seven Typical Process of Die Casting Making:
Step 1: Product DFM & Mold Design
Step 2: Mold Steel and Other Accessories Purchase
Step 3: CNC Machining
Step 4: Heat Treatment
Step 5: WireCutting/EDM/Milling/Drilling/
Step 6: Mold Fitting, Assembly, and Trial
Step 7: Refine, polish, and Texture
If the final casting product meets our specification, it's time to polish and texture the mold. Then the whole process is signed off.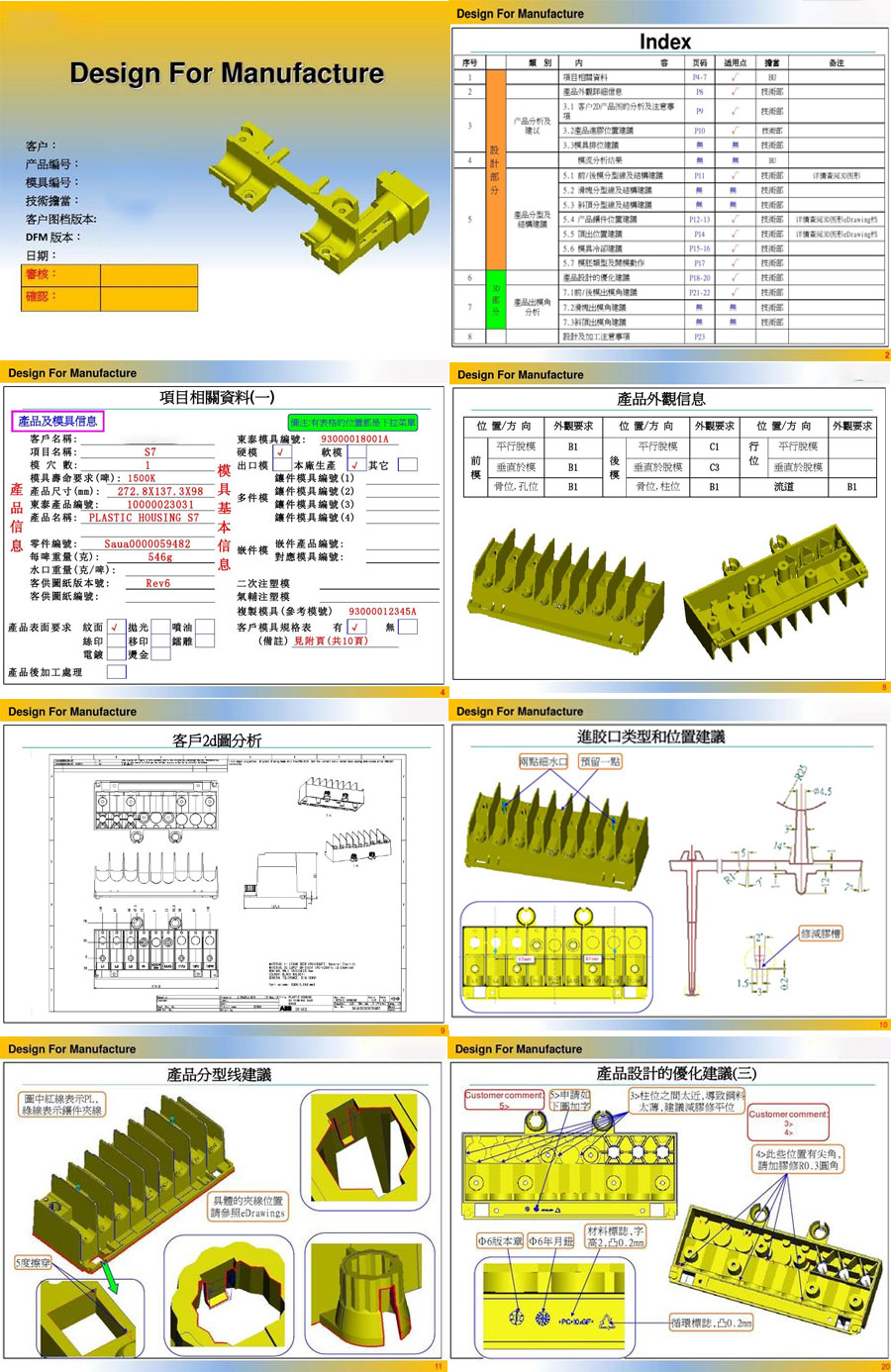 Design For Manufacturability Content
Multi-Slide & Conventional Die Casting:At Minghe Casting, we offer two different types of tooling: multi-slide and conventional. Each has their own unique benefits and our skilled engineers can help decide which tooling is best for each project.
Is there any difficulty in the structure of the product, whether it needs to be modified or simplified; whether the undercut position can be cancelled.
Consideration of shape and position tolerance and mold design. If there are geometric tolerances, try to make them on the same side of the mold, such as the front mold or the back mold or the end of the row.
Confirmation of product draft angle and R angle.
Whether there are thin-walled or difficult-to-form areas on the product, the product design needs to be optimized.
Whether there is a risk of hole breakage in the thin structure of the hole position and whether it needs to be added.
Whether the product is easy to be eroded, whether it is cooled or optimized for product structure treatment.
Whether the product can be designed with reduced materials to reduce product cost.
Does the product tolerance require post-processing? Does the machining position increase machining allowance and process positioning device?
Whether the product needs to increase the process point of surface treatment.
If post-processing requires stamping, whether there is a stamping die positioning point.
Whether the processing area of ​​the product can be simplified, it is directly made by the mold, such as: the corner avoidance slot, the large milling cutter cannot clean the corner.
Whether the glue feeding position and nozzle removal method of the product are reasonable, whether there is a risk of chipping, and whether it is easy to remove.
Whether the design of the slag bag position is reasonable and whether it is convenient for grinding and polishing.
The mold number of the product, the ranking method of the product and the selection of the tonnage of the die-casting machine.
Whether the product has a date code and cavity number.
Whether the position of the product thimble is reasonable, whether it will affect the appearance of the product, such as thimble marks, top package.
Whether the design of the parting line position is reasonable and whether it is easy to process and remove.
Whether the weak parts of the product need to be strengthened, such as adding bridges and removing them after processing.
If the tolerance requirements are too high, a tolerance review is required to strive for customers to relax their tolerance requirements.
Whether you only need the product design drawings、Mold Manufacturing or final die casting part with exact specifications, Minghe Die Casting Company can satisfy your needs with competitive prices, outstanding efficiency and best customer services.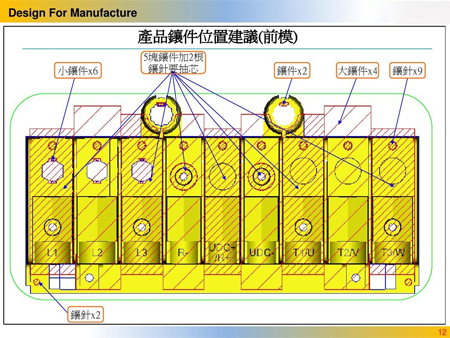 Product Insert Location Recommendations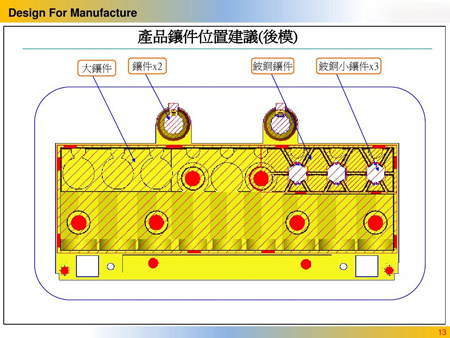 Product Insert Location Recommendations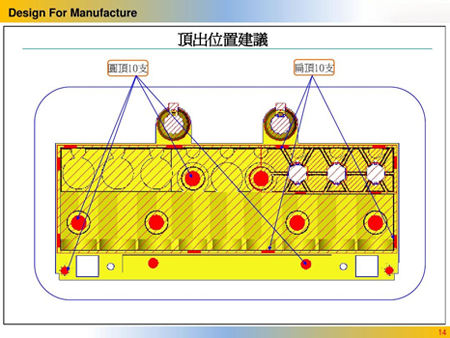 Recommendations For Ejecting Positions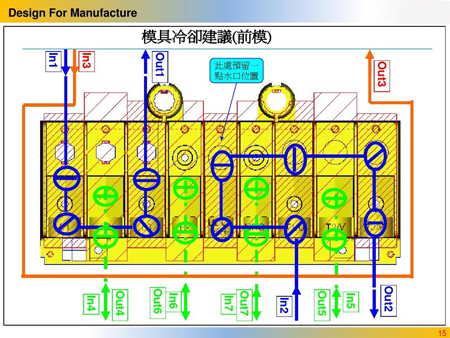 Mold Cooling Recommendations(Front Mold)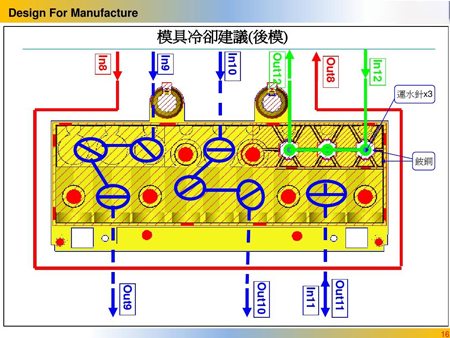 Mold Cooling Recommendations(Back Mold)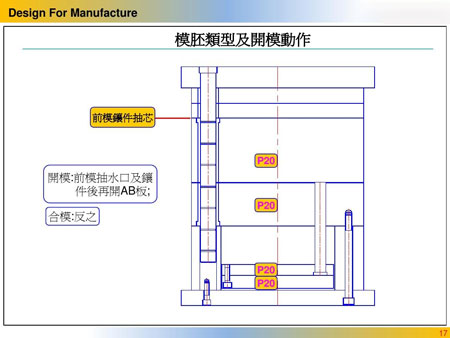 Mold Type And Mold Opening Action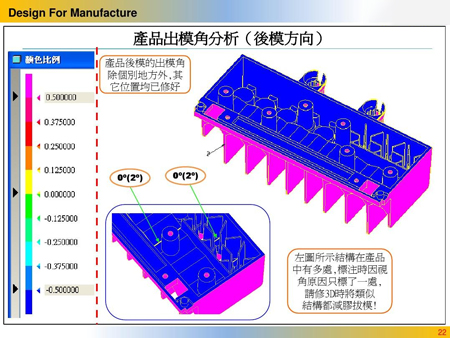 Product Mold Angle Analysis (Rear Mold Direction)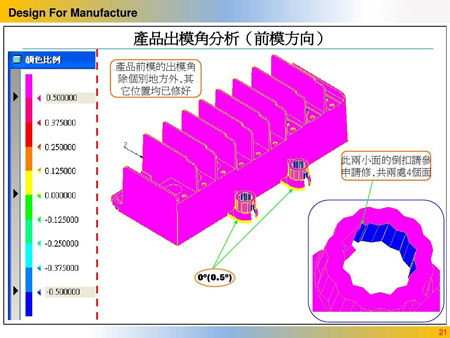 Product Mold Angle Analysis (Front Mold Direction)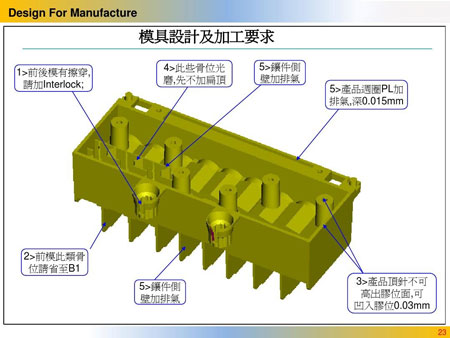 Mold Design And Machining Requirements